Wed, 2020-02-05 06:09

—

monkeymania
I wonder why? DinMin, you are a piece of shit. End of story. Yeah, it's personal. It's also a fact.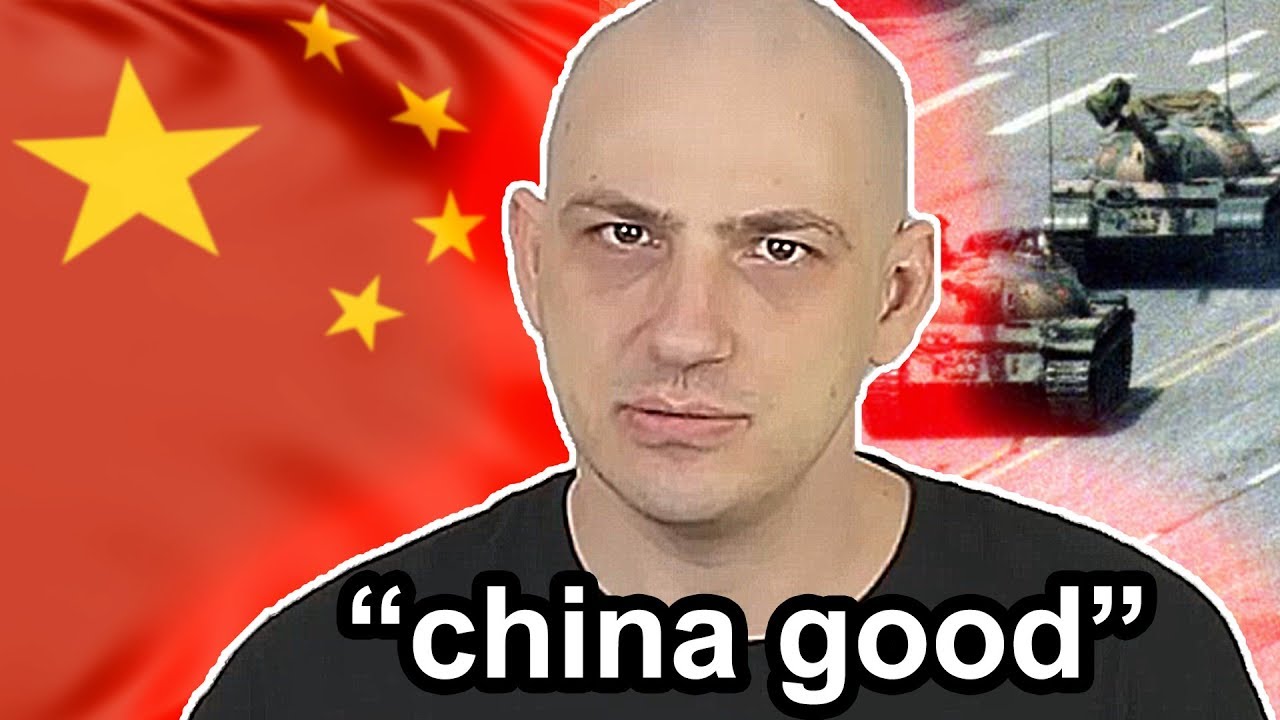 Nathan Rich is a criminal, and not a petty thief, a big criminal. This is not the representative of the Chinese people who want such people to speak for the Chinese people. In the United States, we divide criminals into two categories: one is a misdemeanor and the other is a serious offender. Serious offenders are people with serious crimes. This means that you will sell drugs, or try to harm others, or destroy valuables (body). Nathan Rich is even classified as a fourth-degree felony: possession of drugs. This felony means that he once owned or sold multiple drugs, and drugs were not as simple as marijuana, but sold that kind ... I don't know if you remember the recent report that Canadians were sentenced to death in China. Think about it. Nathan Rich's crimes are, in China, the same as the crimes in which the Canadian was recently sentenced to death. You should know the fact first: As a foreigner in China, it is not easy to live and stay in China because we have to provide proof of background checks. That is to say, if you are a criminal, you will not be allowed to live and stay in China. So, what does it mean for Nathan Rich? It means that Nathan Rich's way of coming to China is illegal. He is a criminal. Therefore, his status in China is that he holds a student visa, tourist visa, and maybe a business visa. Because such visa holders are not required to provide proof of background checks. Give an example. For example, myself, or other foreigners living and working in China, we must return to China to submit a fingerprint verification, and then hand the verification results to the Chinese government to ensure that we are not criminals. Again, Nathan Rich is a criminal who has trafficked drugs, trespassed on a private home, or entered another property or property, such as a car or house. This shows that he is not a good person. Therefore, this person came to China illegally, and his identity may have been different passports, or student visas, or other visas that do not meet the relevant visa status. He mentioned in his video that he was the technical director of a Chinese company. If it is true, it proves once again that his status in China is illegal, because in fact it is impossible to get permission to come to China. Another thing is that he is a liar. He tries to make you think he is a good person and can speak for China. Just because he posted a video about serpentza. Just because he knows that Serpentza is a person who is often not very flattering to Chinese (correction: I want to express "identity"). So he posted the video to win fans among the group of Chinese who don't agree with serpentza. We all know several things he did. He once again posted videos about serpentza and laowhy86, just to point out their negatives. His video uses Chinese subtitles (all of us can also use Chinese subtitles. We don't need it because we don't want to cheat the Chinese). So he's smart (slick). Some criminals are talented in crime. He uses Chinese subtitles, so the Chinese will think that he really understands China, and really loves China. Therefore, you should not (easily) believe every foreigner in China. Because Nathan Rich happens to be a criminal, and he wants to do things that make Chinese think he is a good person. Therefore, I want to emphasize that he is not the representative you want to speak for you or China. He is not the kind of person you would welcome to come to work in China, and even come to your children, relatives and friends. (Remember) He's a dangerous person. In addition, I would like to inform other foreigners in China that if you know that other foreigners coming to China are criminals and doing illegal things, then you have the obligation to report to the police. why? Why call the police? Because someone like Nathan Rich has caused trouble in China, hurting Chinese, Chinese children, or other Chinese, or breaking public property or doing other illegal things, he will make all foreigners appear bad. Then, the government will increase the investigation of foreigners, which will make our lives in China more difficult. The government will take actions or measures that they consider beneficial to the Chinese, regardless of the interests of the foreigners. Therefore, I want to say to the Chinese: Please listen to me, believe me. When I tell you that Nathan Rich is not the representative you want to speak for you or China, not that he says something that he knows you want to hear, it means he is a good and honest man. Again, don't believe his rumors. I don't believe him. As an American, as a foreigner, I read through his nonsense. He is a liar. He is fake and dangerous. This is what I want to say today. If you like, subscribe to my channel. I wish you a happy life.
Nathan Rich是个罪犯,而且并非小偷小摸的罪犯,是个大罪犯。这可不是中国人民想要此类人士来为中国人民发声的代表。在美国,我们把罪犯划分为两类:一是犯轻罪者;二是犯重者。犯重者即是具有严重性犯罪的人士。这意味着你会贩毒,或试图伤害他人,或是破坏贵重物品(体)。Nathan Rich甚至归入为第四级重罪:私藏毒品。此重罪表示他曾经拥有或贩卖多种毒品,而毒品不是大麻那么简单,而是卖那种…不知道大家是否记得前不久加拿大人在中国被判死刑的报导。好好细想一下。Nathan Rich所获的罪行,在中国来说,如同那个加拿大人不久前获死刑那种罪。你们应该先知道这个事实:作为在华的外藉人士,来华生活、居留并非易事,因为我们须提供背景核查证明。即是说,如果你是个罪犯,你不会获准在华生活、居留。所以,对Nathan Rich而言意味着什么?意味着Nathan Rich来华的方式是非法的。他可是罪犯啊。所以,他在中国的身份就是持有学生签证、游客签证,或许可能是商务签证的人士。因为,此类签证持有人是无需提供背景核查证明的。举例吧。比如说,我自己,或其他在华生活及工作的外藉人士,我们必须回国提交指纹核查,然后把核查结果交给中国政府,来确保我们并非罪犯。再强调一遍,Nathan Rich是个罪犯,曾贩毒,曾私闯民宅,或是进入他人其他物业或财产,如汽车或房屋。此表明他并非好人。所以此人非法来华,其身份或许用了不同护照,或是学生签证,或是其他不符合相关来华身份的签证。他在其视频上提及他是中国公司的技术总监。如果属实,则再一次证明他在华身份属非法,因为事实上就不可能获准来华。另一件事是,他是一个骗子。他试图让你们认为他是一个好人,可以为中国发声。就因为他发布了有关serpentza的视频。就因为他知道serpentza是一个时常不太讨中国人喜欢(更正:我想表达「认同」)的人。所以他发布了该视频,从而在那群不认同serpentza的中国人赢取粉丝。我们都知道他做过几件事。他再一次发布了有关serpentza、laowhy86的视频,仅仅是指出他们的负面的东西。他的视频用中文字幕(我们所有人亦可以用中文字幕啊。我们不用,因为我们不想欺骗中国人)。所以他挺聪明(狡滑)的嘛。有些罪犯是在犯罪方面具有天份嘛。他用中文字幕,那么中国人会认为他真的好了解中国的嘛,真的很爱中国的嘛。因此,你们不应该(轻易)相信每个在华的外国人啊。因为Nathan Rich恰好就是个罪犯啊,而他想做那些让中国人认为他是个好人的事。所以,我想强调的是,他不是你们想要来为你们或中国发声的代表。他不是那种你们会欢迎来华工作,甚至来到你们孩子、亲朋好友身边的人士。(记住)他可是个危险人物。另外,我想告知其他在华的外藉人士,如果你知道其他来华的外籍人士是一个罪犯,干非法的事,那么你有义务报警。为什么呢?为什么要报警呢?因为像Nathan Rich这类人在华制造事端,伤了中国人、中国小孩,或其他中国人,或坏破公物或做其他非法之类,他会让所有外籍人士显得都是坏人。那么,政府会增加对外籍人士的调查行动,进而令我们在华生活更加困难。政府会采取他们认为对中国人有益的行动或措施,而不理会外籍人士(的利益)。所以,我想对中国人说:请听我说,信我的话吧。当我告诉你Nathan Rich不是你想要为你或中国发声的代表人士,而非他说了一些他知道你想听的话就代表他是个诚实的好人。再强调一遍,别信他的鬼话。我不信他。作为美国人,作为外籍人士,我看透他的那些胡说八道。他是个骗子,他很假,很危险。这就是我今天想说的。如果你喜欢,订阅我的频道。祝你生活愉快。